Posts tagged 'decorating'
Love this Houzz article on tried and true paint colors for your walls.
Three houses ago I had a pretty decent sized master bath with a separate shower and a garden tub.  The toilet was in it's own little room that you could shut the door to.  It also had separate vanities for myself and my husband.  Yes I said SEPARATE!
But then circumstances change and now three houses later I've got a pretty small master bath that only has a shower.  This has become my husband's bath since there's only really room for one person.  So my daughter and I share the hall bath.
A few months ago we were finally able to do a small-ish remodel on the hall bath and I couldn't be more pleased with how it turned out.  It's nothing fancy, ya'll.  But it's way better than it used to be.  This bathroom has one small window that has frosted glass so even on the sunniest of days not much natural light gets through.
We removed a wall between the sink and the toilet that had a door frame that once held a door separating the toilet from the sink.  It was making the long narrow bathroom seem even more cramped and tight, so IT HAD TO GO!  We also added some recessed lighting, removed popcorn ceiling, put in new tile and new vanity with new countertop and sink.  If I could've moved the tub (which is located behind the other wall near the toilet) and toilet it would've been heaven, but the expense for this house wasn't justifiable, nor was it in the budget.  Here are the before's and after's:
So much more open!  It makes me happy and that, folks, is surely enough!
So in my last post I wrote about how much stuff I have and need to get rid of and today I will showcase a little bit of my stuff that I plan to keep!
When I went off to college, my Mom and I had a great time decorating my apartment.  My obsession for the kitchen was cherries and teapots.  So, all these years later (I'm really not that old), I have some cherries and I have some teapots and of course I have some cherry teapots.  This is probably one of the biggest cherry pieces I have:
I still love my Mary Engelbreit cookie jar.  It's a keeper!
My favorite cherry piece though just might be this:
Just beautiful.  I'm so thankful it's survived intact all these years.  Again, I'm really not that old.
This apple was painted by my Mom in 1979.
I love it in my kitchen!
Our house was built in the 70's and has a utility room with a pantry that is, at the moment, fairly non-functional. 
We are hoping to be able to remodel the utility room pretty soon.  By removing one small wall and adding another, we can make our non-functional pantry into an awesome walk-in pantry.  Not sure what this will cost yet, but oh my gosh I hope it's do-able! 
I'm filling my Houzz idea book up pretty quick with ideas and here is what I want my pantry door to look like, only I would like mine to be red.
Here is another Houzz article about popular paint colors for 2014.  This article has quite a few more options showcased than the article I linked to previously.
The hues are fantastic in my opinion and are giving me ideas to repaint my office/craft room, which is currently a camel color that I've grown tired of.
I'm thinking of using something similar to the Valspar Winter in Paris as an overall color and then adding an accent color of Valspar Night Scape.  This is a room that you see when you first walk into my house so I'd really like to make it look unique but without being too trendy.
If only I could bear to spend $70.95 for a doggie bed, then this would be the bed I would get for my old pup.  A perfect follow up to my last post.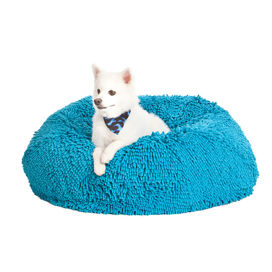 It's from Joss and Main.  Love it.